Associate Certificate Program
Professionally, the ability to lead teams is one of the most valuable skills you can bring to the table. Effective team leaders align people, build buy-in and enable higher levels of productivity. They help individuals develop, get teams to gel and build capabilities for the organization.
Based on original research conducted for Sauder School of Business Continuing Business Studies, this program is designed to help you develop the skills, knowledge and insights needed to lead teams effectively. Helping build self-awareness and situational-awareness, the program will provide you a benchmark against which to evaluate your own capabilities and identify opportunities to improve.
Who Should Attend
This program is designed for individuals already working in a team leadership role, or working professionals who are making the transition into leadership or anyone who wants to strengthen their leadership capabilities including functional or line managers, technical leaders, change managers, project lead, and entrepreneurs across multiple industries.
Curriculum
Our Bootcamp enables you to complete the program in 2.5 months in a blended delivery that includes a 2-day In-person workshop and Live Online classes that integrates learning from the following 6 modules:
Understanding Self – Anchoring a foundation by understanding what type of leader you are, what you want to be and what your team and organization need you to be.
Creating Clarity – Building the base by ensuring clear communications, shared understandings and effective engagement.
Building Relationships – Developing capabilities by deepening connections, enriching understanding and motivating the team.
Managing Performance – Enhancing team performance by growing the team's capabilities and developing their skills
Maximizing Value – Increasing productivity by focusing the team's efforts and eliminating inefficiencies
Bringing it all Together – Integrating the ideas and refining performance
Program Benefits

Identify the different forms of leadership and how they can collaborate in delivering value
Evaluate the key drivers that shape the thinking of highly effective team leaders and provide examples of how those drivers may influence team leader's decisions, actions and behaviors
Justify how leaders influence team culture and outline ways in which a leader can influence a positive work environment
Demonstrate how differing work styles impact a team and outline strategies to build trusting relationships in which team member contributions are maximized
Apply strategies to maximize individual and team performance such as feedback, coaching and mentoring
Explain what 'value' means and how different stakeholder perceive value in different ways
Identify common inefficiencies in a team and propose ways to maximizing team productivity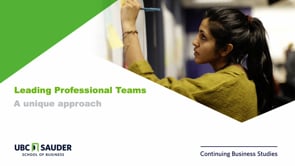 Applies to the following Certificate(s) as a course substitution
Registration Details
Mar 22 - Jun 6, 2023 | Blended | $3,980
Mandatory In-person:
Sat & Sun  Mar 25 & 26, 9:00 am - 4:00 pm (PT) at UBC Robson Square
Mandatory Live Online:
Tue  Apr 4 & 18, May 2, 16 & 30, 6:00 pm - 9:00 pm (PT)
Tue  Apr 11 & 25, May 9, 23 & Jun 6, 6:00 pm - 7:00 pm (PT)
Blended
info_mark_grey
In-person with instructors and classmates combined with self-paced instruction
In-person with instructors and classmates combined with self-paced instruction
Live Online
info_mark_grey
Online classroom-style interaction in real time combined with self-paced instruction
Online classroom-style interaction in real time combined with self-paced instruction
Online
info_mark_grey
Self-paced learning with flexibility to collaborate
Self-paced learning with flexibility to collaborate